Join us at Convene
117 W 46th St, New York, NY 1003
Is located off of 46th Street, beetween 6th & 7th Avenues
October 6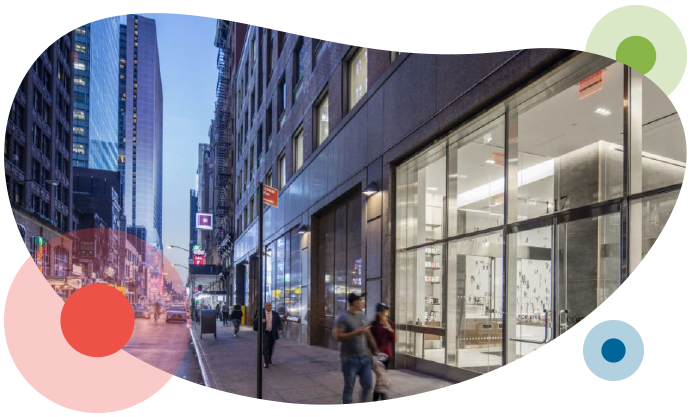 ---
Hotel for DataFest Attendees
Denodo DataFest will be located at Convene at 117 W 46th St, New York, NY 10036 . A block of rooms with a discounted rate has been reserved for Denodo DataFest 2021 attendees, which is conveniently located within walking distance from the conference venue.
Hyatt Centric Times Square New York
135 West 45th Street, New York, New York, United States, 1003
Visit Hyatt Centric Times Square website
Hotel reservations
For a limited time - you can reserve your room at an early bird rate of $379.00 per night at the Hyatt Centric Times Square New York. This rate is only available for Denodo DataFest registered attendees. To reserve your room, book directly through this reservation link. All reservations must be made by September 24, 2021. The offer is subject to room availability, so make sure to book early.
---
COVID-19 Information
What is the vaccine policy at Convene?
Convene's goal is to create premium, safe spaces where people can work and meet comfortably and with peace of mind. In line with Convene's commitment to protect the health and wellbeing of employees, customers, and guests, and in light of the rapidly spreading Delta variant of COVID-19, Convene is requiring that everyone onsite at our locations show proof of vaccination to prevent further spread of the virus in our communities.
What do I need to bring to show proof of vaccination?
As part of the event check-in process, Convene will check for vaccine status at entry. Guests should plan to bring a photo ID and at least one of the following forms of proof: state/city digital vaccine pass (ex: New York Excelsior pass), a photo of your vaccine card, or the actual card. As of the required deadline (September 13th), guests must show proof of vaccination of at least one shot in order to enter. By October 4th, guests must show full vaccination status.
Can I take a PCR or rapid test instead to attend this event?
At this time, Convene is requiring that everyone onsite show proof of vaccination status and are not accepting tests as a substitute for proof of vaccination.
For updates on requirements by Convene please visit here: https://convene.com/coronavirus-covid-19-updates/
Know before you go. Visit here to view COVID-19 Information
---
Questions?
Contact us: [email protected]